Private Investigations in Vista – Vista Private Investigators
Do you need a private investigator in Vista? Not only are we highly qualified licensed Vista private investigators we are residents of Vista and enjoy helping people who seek the truth. Getting the answers is an important part of what most people want when they hire our Vista PI's and we aim to provide results on every type of investigation we handle. While we may not be the only Vista investigators out there Bradley Investigative services provides private investigations in Vista and surrounding areas and is one of the best choices you can make for your Vista private investigative needs. If you need an investigator in Vista look no further. We handle all aspects of private investigations in Vista, background checks, business surveillance, child custody investigations, domestic and infidelity investigations, corporate investigations and criminal investigations. We are a officially licensed by the State of California and can service your all of your private investigator requirements, just fill out the quote form to get started.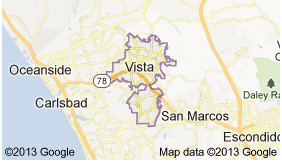 If you are needing any particular type of service take a look at our selection of private investigator services, you can find links to all of our services in the main menu on our site, or fill out the form as mentioned earlier. Call for a consultation with our Vista private investigators today. Our rates for private investigations are very reasonable for the quality of work that we provide. If its a child custody investigation it is always a great idea to hire a PI. We have videos you can check out and get an idea of the type of investigation company your working with we have considered to be highly reputable. Regardless of the type of Investigation you need or your location in Southern California we can help you! While our investigators are constantly handling cases in Vista, We are able to service a wide area with ease. Hire a private detective in Vista that you can count on to get the job done. Consider this the investment in a private investigator can make a major difference in the evidence that is uncovered in any type of investigation. Whether this is an investigation for a personal matter or for a business or an attorney, Bradley Investigative Services is committed to providing accurate and thorough results for a reasonable price.
Vista Cheating Spouse Investigations – Bradley Investigative Services
From Infidelity to Criminal Defense and Child Custody Investigations
If you are looking for a Vista private detection agency we can offer a number of options from background checks to surveillance. Call us for competitive investigative rates or if you simply want to click right here you can get a quote now. We have been offering private investigations in Vista and Southern California for over 15 years. we have the knowledge and expertise to help you get results. You can reach Bradley Investigative Services 7 days a week call 888-498-6111 to schedule your appointment now or fill out the request form and one our investigators will respond. Thanks for considering Bradley Investigative Services a licensed Vista private investigation service.